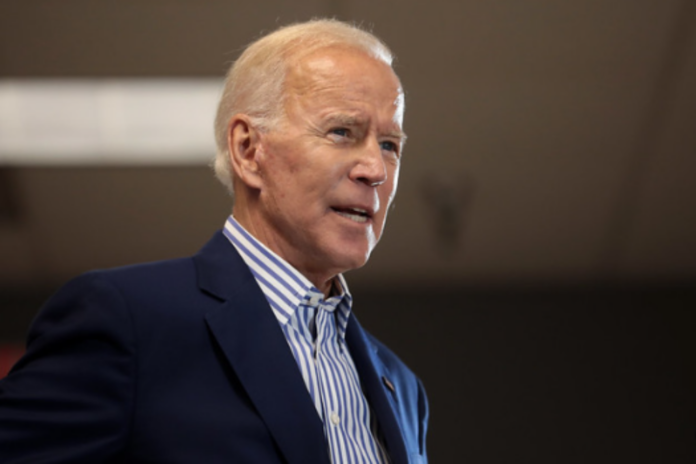 Joe Biden keeps saying he is running for re-election in 2024.
Few Democrats actually believe or want that to be the case.
And now Democrats created this secret plan to replace Joe Biden in 2024.
An NBC News poll found 70 percent of Americans do not want Joe Biden to run for President.
A majority of Democrats are among that number.
Democrats see an 80-year-old Joe Biden deteriorating mentally and physically by the day.
They also see polls that show Biden trailing Donald Trump in the key swing states.
NORTH CAROLINA
Trump 54%
Biden 46%
——
GEORGIA
Trump 52%
Biden 48%
——
ARIZONA
Trump 52%
Biden 48%
——
WISCONSIN
Biden 53%
Trump 47%
——
MICHIGAN
Trump 50%
Biden 50%

PENNSYLVANIA
Trump 50%
Biden 50%
——
NEVADA
Biden 51%
Trump 49%

Prime Group/Gephardt Group
N=500 (per state), with… pic.twitter.com/LSRtwGC3Ux

— InteractivePolls (@IAPolls2022) July 13, 2023
CNN reports that top Democrats are not willing to defer to Biden, which would be the standard operating procedure when a sitting President decides he wants to seek a second term.
Instead, they are meeting in secret and in group chats to gauge the interest of other Democrats in stepping in for Biden should he eventually bow to reality and withdraw from the 2024 race.
"The conversations keep happening — quiet whispers on the sidelines of events, texts, emails, furtive phone calls — as top Democrats and donors reach out to those seen as possible replacement Presidential candidates," CNN exclusively reported.
CNN reported the feeling among many Democrats is that "despite what he has said, despite the campaign that has been announced, President Joe Biden won't actually be running for re-election."
As the days tick off the calendar, many Democrats "feel like time is already running out and that the lack of the more robust campaign activity they want to see is a sign that his heart isn't really in it."
Other media outlets are still trying to run cover for Biden.
POLITICO tried to spin the fact that Biden has barely hired any staff and spent less than half as much as Donald Trump's allied Super PACs as an example of how he intends to husband his resources and spend his money wisely.
"The President has hired fewer than 20 campaign aides. His team hasn't yet announced a 2024 headquarters. His first political rally this year was paid for by other organizations," POLITICO reported.
"Biden's campaign and pro-Biden super PACs have spent $7.5 million on broadcast, cable, and digital ads since he launched his reelection bid, according to an analysis by the ad-tracking firm AdImpact. GOP frontrunner and former President Donald Trump's campaign and an outside group backing him have spent $16.4 million in the same time period, with the vast majority of that outlay coming from his super PAC," POLITICO added.
Biden has spent so little money and hired so few staffers for one simple reason – Democrats still aren't sure he will follow through and run for re-election.
One sign is the fact that Biden is refusing to release his second-quarter fundraising numbers until the last possible moment.
When campaigns have good news to announce, they do so immediately.
A sitting President like Joe Biden should be raising oodles of cash and bragging about it nonstop.
The fact that Biden's campaign sat on their fundraising totals suggests a lack of enthusiasm from low-dollar grassroots donors and a hesitancy to commit from the big-money donor class due to worries that Biden does not intend to see the 2024 campaign through to the finish.
Patriot Political will keep you up-to-date on any developments to this ongoing story.