During Barack Obama's reign, the government began targeting entire classes of Americans over their political or religious views.
Joe Biden went further and fully weaponized the Department of Justice and FBI to take down conservatives.
But the Department of Homeland Security just made one claim about conservatives and Christians that will have you seeing red.
A college program that received taxpayer money from Joe Biden's Department of Homeland Security is equating conservatives and Christians to militant neo-Nazis.
The office of targeted violence
Documents recently obtained by the conservative media watchdog organization MRC Free Speech America revealed that the Department of Homeland Security's Office of Targeted Violence and Terrorism Prevention handed out $352,109 in 2022 to the University of Dayton.
According to the New York Post, this money was dedicated to help "develop and implement modules on the risks of and protective factors for radicalization to violence related to media literacy and online critical thinking for students."
Under its Targeted Violence and Terrorism Prevention Grant Program, DHS awarded 80 grants that totaled nearly $40 million to establish "media literacy and online critical thinking initiatives." In an internal memo obtained by MRC, DHS Secretary Alejandro Mayorkas referred to the grant program as a "high priority."
But the University of Dayton's PREVENTS-OH program was just one such expenditure and happened to be "among the most radical grantees." 
The program was designed to fight "domestic violence extremism and hate movements."
Of course, the program labeled anyone to the Right of Mitt Romney as part of a hate movement.
Just another pyramid scheme
A chart used by DHS and the University Dayton in a training program equated mainstream groups with militant neo-Nazis.
Included among these groups are the American Conservative Union Foundation, Breitbart News, the Christian Broadcasting Network (CBN), Fox News, The Heritage Foundation, the National Rifle Association (NRA), PragerU, Turning Point USA, and the Republican National Committee, among others.
The chart, called "The Pyramid of Far-Right Radicalization," purports to show the progression of right-wing radicalization in America.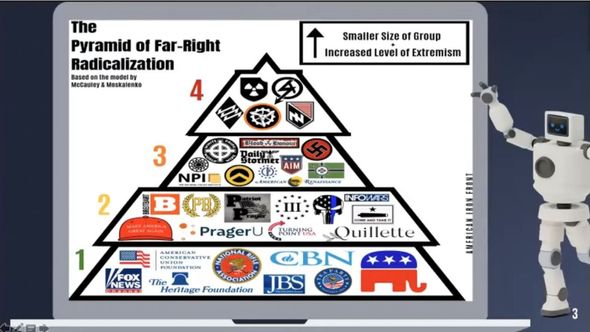 The chart sorts various Christian, conservative, and known neo-Nazi groups into a pyramid. 
It placed "smaller" organizations with a supposed "increased level of extremism" closer to the top of the pyramid.
During the university's seminar, a speaker explained groups listed at the bottom of the pyramid are considered "mainstream conservatism," including the Republican Party, Fox News, the Heritage Foundation, and the Christian Broadcasting Network.
The second level of the graphic was labeled "alt-lite" and included Breitbart News Network, PragerU, Turning Point USA, Infowars, and "Make America Great Again."
The final top two tiers, labeled "alt-right" and "accelerationist terrorism," listed known radical so-called hate groups.
DeSantis and Trump are evil dictators
"The seminar also compared former President Donald Trump to Pol Pot and suggested Florida Governor Ron DeSantis might wish to start a second Holocaust," MRC stated.
A DHS spokesperson tried to explain to the New York Post that "this seminar was not funded, organized, or hosted by the Department of Homeland Security."
"Similarly, the presented chart was not developed, presented, or endorsed by the Department of Homeland Security, and was not part of any successful grant application to the Department of Homeland Security. DHS does not profile, target, or discriminate against any individual for exercising their constitutional rights protected by the First Amendment," a DHS spokesperson claimed.
But the facts suggest otherwise, as a DHS employee participated in the seminar to discuss the Department's Center for Prevention Programs and Partnership. 
Additionally, Dayton researchers admitted that the seminar was part of the DHS grant program.
MRC Vice President Dan Schneider accused the agency of "lying through its teeth once again."
"DHS did indeed fund the PREVENTS-OH program a year after a graph and documents were presented that equated Nazis to conservatives, Christians, and Republicans," Schneider stated.
"Laughably, the DHS Ohio grantee quickly scrubbed its website following this report, something innocent groups don't do. But it is too late; we have already copied it. We also have proof that 'PREVENTS-OH' actually hosted the conference and that DHS was an active participant, including featuring a senior DHS official at the conference," he continued.
Congress needs to launch a full-fledged criminal investigation into the Department of Homeland Security.
And Alejandro Mayorkas should be impeached immediately.
Patriot Political will keep you up-to-date on any developments to this ongoing story.